Unsettled: workshop presentation & discussion

Artist names: Caroline Hebert, Stephen Lytton, Kat Norris, Kaitlyn Pedersen, Sandra Pronteau, Julia Siedlanowska, Terreane Derrick

Sponsored by Kokoro Dance Theatre Society/KW Studios, presented as part of the Downtown Eastside Heart of the City Festival.

Unsettled is an intergenerational multi-arts theatre project created with and performed by community artists who live with and experience disability(s).

The presentational style blends poetry, narrative, song, stylized gesture, movement, live drumming and incorporates ASL interpretation.

Join us for a workshop presentation of this theatrical work in progress. We want your feedback. Following the presentation will be a panel discussion with the artists/creators, and community members around disability and access in theatre. Guest panelists include Susanna Uchatius from Theatre Terrific and Terreanne Derrick, Gitxsan filmmaker.

ASL interpretation provided.
KW Production Studio is accessible via the elevators in our office building. There is a ramp that goes from the entrance from the elevators to the studio itself.
There will be someone posted at the door throughout the event to ensure all patrons can come in and access the elevator or the stairs to the downstairs studio.
There are wheelchair accessible bathrooms.
Please note that this is a scent-reduced event. We request that participants refrain from the following before or during the event: Smoking; Wearing colognes, perfumes or scented oils; and using chemical based laundry detergents or fabric softeners. We ask participants to wear something that has had limited exposure to the items above.

LOCATION:
KW Production Studio
Website: http://www.kwstudios.ca/production-studio/
Address and Phone Number: KW Production Studio #10 – 111 Hastings St W, Vancouver, BC V6B 1H4 604-662-7441
Google Map: https://www.google.ca/maps/place/KW+Production+Studio/@49.2823487,-123.1096705,17z/data=!3m1!4b1!4m5!3m4!1s0x548671798953982f:0x27e2aaa0fb367231!8m2!3d49.2823452!4d-123.1074818

WHEN:
Monday October 22nd 2018 (doors 7pm) 7:30-9:30pm

FREE or by donation

We acknowledge that this event takes place on the ancestral, unceded territories of the ʷməθkʷəy̓əm (Musqueam), sḵwx̱wú7mesh (Squamish), and sel̓íl̓witulh (Tsleil-Waututh) First Nations.
Recent:
We (don't) Deserve Nice Things by Anita Majumdar at Pi Theatre/ The Only Animal's Climate Change Action II.
Sunday November 12th
2-4pm
Red Gate Revue Stage
1601 Johnston st., Vancouver, BC

Featuring Melissa Oei, Anjela Magpantay, Lindsay Curl, and Danielle Klaudt.
More info here.
Wyspa (Generation Hot: Waterborne, Program Green- The Only Animal)
Lead Artists: Kanon Hewitt & Julia Siedlanowka
Dramaturgy: mia amir

A group of youth stranded on an urchin-infested island guide the audience through a magic-infused ceremony and explore their world views that have turned them into survivors. Part documentary/verbatim script driven by youth aged 11-16.
http://tickets.vancouverfringe.com/shows/generation%20hot-%20waterborne%20-%20program%20green/events
Wyspa is partly inspired by the recent rise in domestic violence in Alberta as a result of the economic downturn and job loss in the oil and gas industry, and how raising youth in rigid gender hierarchies might enforce these patterns of violence. It also asks the question: How do we react to questions around climate change when the youth who will inherit our planet are right in front of us?
The King Matt Theatre Presents:
The Green Wanderer
By Liliana Bardijewska
May 6th- October 2017 (Touring)
May Tour Dates:
May 6th 12:15pm Port Moody Fingerling Festival
300 Ioco Rd, Port Moody, BC
http://www.portmoody.ca/index.aspx?page=169

May 13th 3pm Balding for Dollars at the BC Children's Hospital
4480 Oak St, Vancouver, BC
http://baldingfordollars.com/

May 25th 11am Surrey International Children's Festival
Bear Creek Park 13820 88 Ave, Surrey, BC
http://www.surrey.ca/childrensfestival/47.aspx

IN SHORT: A puppet show for kids about connection, adventure, inclusion, and following your dreams. Playing May 6th 12:15pm at the Fingerling Festival in Port Moody, BC Children's Hospital May 13th at 3pm, Surrey International Children's Festival May 25th at 11am, and touring to various other locations through till October 2017! Please see our Facebook Page for details.
Vancouver, BC – The Green Wanderer is a lyrical fairy tale for young audiences full of warm humour, about friendship, tolerance, the need to have a dream, and the art of being different.
"As a mom of two small children, I feel compelled to work on shows that propagate caring, understanding, compassion and love."
– Elizabeth Kirkland (Puppeteer)
In grey Creatureland, Creature (The Green Wanderer) wakes up one day to find they're completely green! But the grey river shows them a grey reflection, because Creatureland is unaware of any other colours. Creature decides to set off into the world in search of a green river, followed by the sneaky Hedgehog, to see their true green reflection. Their unusual journey will take them through various colourful but monotone lands, from blue to green. The inhabitants of each one will greet Creature in a different way: in the land of blue they will want to make them blue by force; in the land of red they will greet them as someone unique, worthy of a royal crown; in the land of yellow - kingdom of fun and games - Creature will understand that all are equal; in the land of white fog they will see that colours can disappear too; and in the land of green they will finally cease to be different - they will be green like everyone else.
On their travels Creature will meet lots of new friends who will help them on their journey - brave Azure the Snail, Cinnabar the mischievous wind, Queen Crimson the dethroned bird, a philosophical polar Bear and suspicious green Porcupine. From each of them they will get an unusual gift that will show them the way ahead. In the end Creature will return to their grey homeland over the rainbow bridge, to tell the others creatures about the world's colours and change Creatureland forever.
The story will be told through the use of hand puppets, with the expertise of puppeteers Lissa Neptuno (The Nether) and Elizabeth Kirkman (Three Stories Up, Corleone). Creature will be played by Sarah Roa (Robinson Crusoe, Raven Meets the Monkey King -Axis Theatre.)
The King Matt Theatre is an offshoot of the Vancouver Polish Theatre and is dedicated to producing English translations of work for young audiences by Polish authors.
Artistic Team: Director Julia Siedlanowska, Producer Andrzej Gajos, Featuring Sarah Roa, Lissa Neptuno, Elizabeth Kirkland. Sound Designer Matthew Horrigan, Stage Manager Bogumila Siedlanowska, Puppet Designer and Builder Randi Edmundson, Set Designer Jared Rashke, Costume Designer Joanna Kopplinger
See our preview in The Vancouver Sun here!
aux.la.more
Created and Performed by Kara Nolte
Directed and Produced by Julia Siedlanowska
SHOW DATES: Sep 9, 10, 11, 13 @ The Vancouver Fringe 2016
aux.la.more takes us on a journey from Walt Whitman to the Backstreet Boys in a search for connection. Dislocation, unrest, addiction and loss can be overcome by simply being together.

More info: https://www.facebook.com/ShakespeareUnchained/?fref=ts
Umizoko
Written by: Kanon Hewitt
Directed by: Julia Siedlanowska
The Vancouver Fringe 2016
The audience puts together an interactive puzzle of sights, sounds, and smells from a world in which coastal cities have disappeared into the radiation-filled ocean. Each artifact collected from a future Japan reveals a story of the struggle to love in a society desperate to survive.
When Anna moves in to the basement suite below Patrick, an unlikely romance ensues. But as she suffers increasingly strange behaviour in her sleep, it sends them both down a dizzying spiral of mistrust and fear. Now, caught together in a shared nightmare, these clashing lovers must untangle their demons, sort reality from dream, and learn how to trust – or one of them may never wake up.
Featuring Jess Amy Shead and Riaan Smit
Director • Julia Siedlanowska
Set Designer • Pedro Chamale
Sound Designer • C.J. McGillivray
Costume Designer • Heather Schmit
Lighting Designers • Ada-Jane Wolf and Nicole Weismiller
New Media Designer • Matt Horrigan
Assistant Set Designers • Vanka Salim, Jocelyn Kim and Shelby Wyminga
Stage Manager • Miranda Sandberg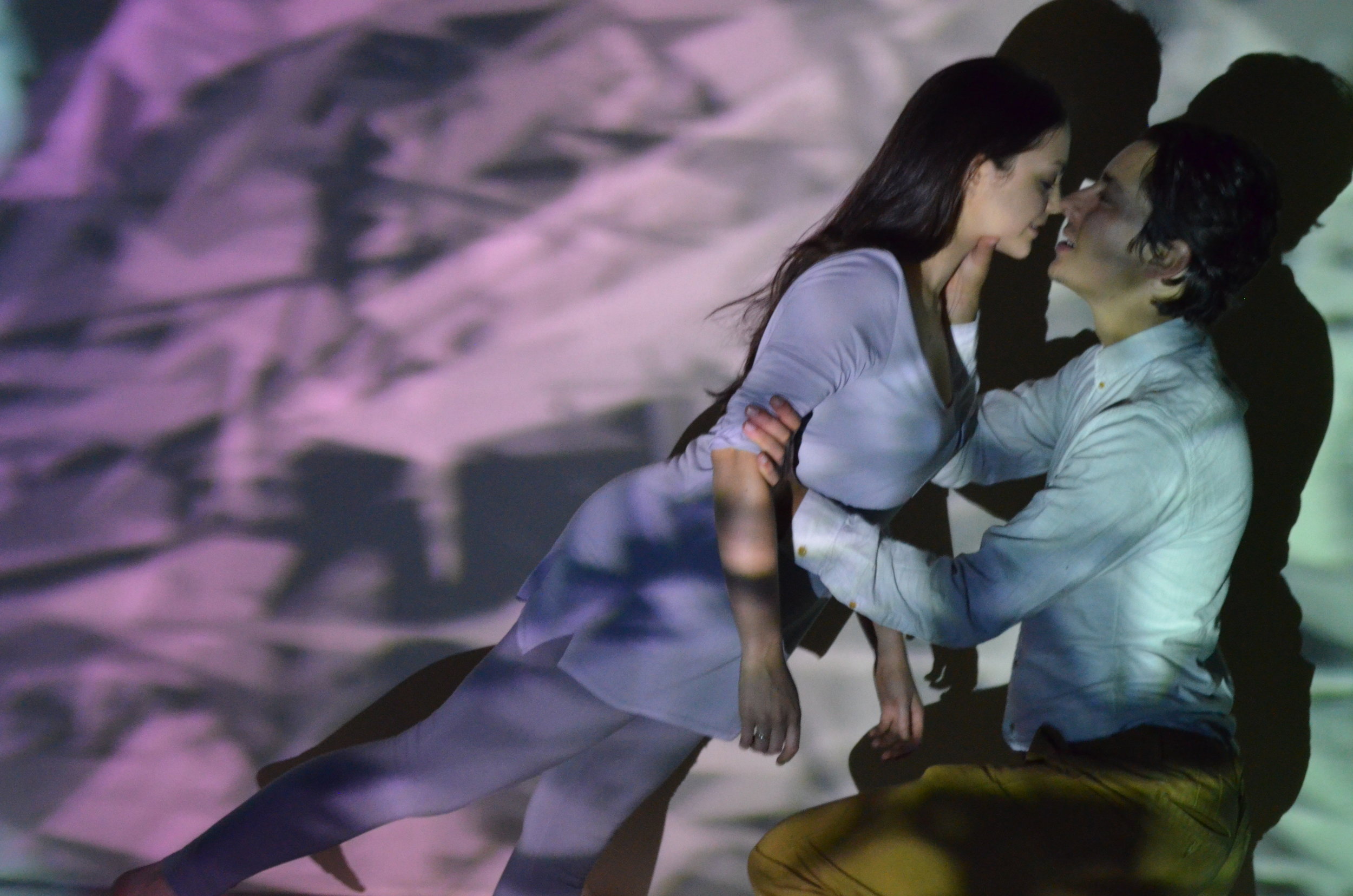 More content coming soon...